Santa Fe wins the homecoming game in a not so dramatic fashion
On homecoming night, the Wolves took on the Westmoore at Santa Fe. The Wolves put on a clinic trouncing the Jaguars 48-10.
Before the game started, the homecoming court was introduced, and Talyn Shettron (WR #2) was named homecoming king. The student section was full of excitement and was a major contributor to the win.
The wolves would initially take the lead by scoring a touchdown off of a Demarius Robinson (RB #36) run up the middle. The wolves went up 6-0 but failed to get any extra points after squandering a two point conversion opportunity. On the next Westmoore possession, they would score on a pass play that was poorly covered and the extra point attempt was successful giving Westmoore the lead 7-6.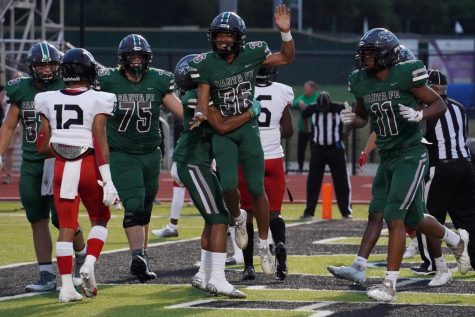 The defense would then go into the film tent and receive some harsh criticism that would leave the team much improved for the remainder of the game.
Westmoore would then strike again in the second quarter, but a firm Wolves defense would hold them to just a field goal rather than a touchdown. After this, the Wolves would take complete control of the game, and Westmoore would fail to score again. The Wolves would score three touchdowns in the second quarter with the second one coming off of a massive 63-yard run play by Demarius Robinson. This would put the Wolves up ten going into halftime
Right at the end of the second quarter, the Karmello Flowers (DB #33) intercepted the ball at the 21 yard line, and the Wolves would score on their next possession. The Wolves led 27-10 going into half time.
The third quarter saw less action than the second. Neither team scored for the first eight minutes, but this dry spell would end when the Wolves had a 50-yard run play which put them at the one-yard line and allowed them to score on the next play. Westmoore would throw an interception to Cade Nelson (DB #12) on their next possession. Talyn Shettron and Demarius Robinson would then lead a drive to put the Wolves up 41-10.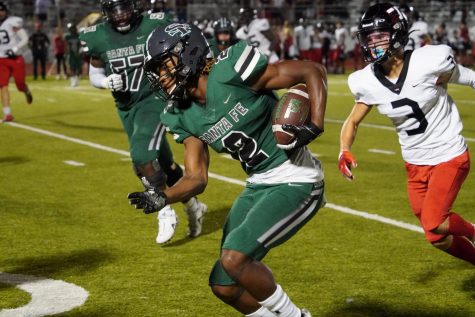 The Wolves would score once more in the fourth on a huge 50-yard pass play to Tabry Shettron (W #11).  With the game secured, the second string players would go in and receive some real game experience.
This game gives the Wolves a 3-2 record after starting out the season 0-2.
"The guys have played very well and the coaches have coached well. We are coming together as a team and finding our identity," head coach Kyle White said.