Santa Fe Network Collaboration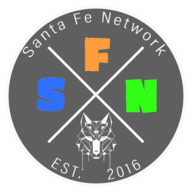 The Santa Fe Network and The Santa Fe Ruff Draft are two organizations that are the main news vocal outlets for students at Santa Fe High School. Although they are seen as separate organizations, they work together in many situations, behind the scenes.
The Santa Fe Ruff Draft is a more traditional newspaper source. They post online on a shared Santa Fe News website. Their job is to collect information through interviews and research to post accurate information. They write different article types such as sports, opinions, reviews and of course, news. These articles are published almost every other week.
Along with the Ruff Draft, there is the Santa Fe Broadcast Network, which is a more modern media news source. Students publish news segments that are recorded in the community and around the school, edited in the Santa Fe Broadcast room, and published during weekly Santa Fe News segments. They create a variety of news segments, similar to that of the Ruff Draft, but also look into bigger news stories in and around our nation. The Santa Fe Broadcast team also provides opportunities for Broadcast Media and Sports Broadcasting. Broadcast Media produces the weekly news shows seen on their YouTube website. The Sports Broadcasting team is in charge of all the visual aspects and behind the scenes action at all Santa Fe football, basketball, and baseball games.
While both organizations are separate from each other, they do collaborate in different ways; oftentimes, the images used in The Ruff Draft Articles are taken by the members of the Broadcast team. Additionally, Ruff Draft will share ideas and information with the Santa Fe Broadcast team to create news stories. This partnership ensures the ongoing success of both programs.
The Santa Fe Network and Santa Fe Ruff Draft are two great organizations of young and upcoming writers that love to be the voice of all the students of Santa Fe. Santa Fe students are encouraged to stop by, to the Ruff Draft in room 24A or Broadcast in room 51, and pitch their own story idea. Many times the stories that are seen on the Santa Fe Network website are ideas brought from the students throughout the halls of Santa Fe. 
If you have ideas for the newspaper staff, please submit them to this form.
About the Writer

William Hackney, The Howl Staff
Hello! My name is William Hackney and this is my first year in Santa Fe Network The Howl. I have always loved sports and to create stories over them, so...