Senioritis: An unfortunate side effect of COVID-19
"Senioritis" is hitting harder and faster than ever. A late start, no assemblies, and no real enthusiasm have left the senior class feeling apathetic. 
Unlike past years where throughout the school seniors were known as the "Leaders of the Pack," this uncertain year with COVID-19, social distancing, masks and virtual learning has the senior class just feeling like 12th graders. With the elation of their last year of high school diminished, virtual and hybrid seniors are being hit by that first wave of senioritis all too early.
Acknowledging the threat of senioritis, virtual student MacKenzie Powell said, "It's a bit overwhelming and stressful at times. In some classes, I feel like I am just trying to catch up."
Seniors involved in extracurricular activities and other school activities like clubs and Francis Tuttle feel burnt out and like the year isn't going anywhere.
"I'm hopeful the year will get better, but with Francis Tuttle and normal school it's so tiring and stressful yet it's going so slowly," hybrid schedule senior Hira Waheed said.
Senioritis, however, extends beyond schoolwork. Senior night, which is normally at the end of the football season, fell flat. Many seniors that are in the band, football, cheer, and pom who are normally celebrated that night didn't know where they were going to college and some had no clue what they wanted to study once arriving on campus. The student section that proudly dons their college colors or merchandise was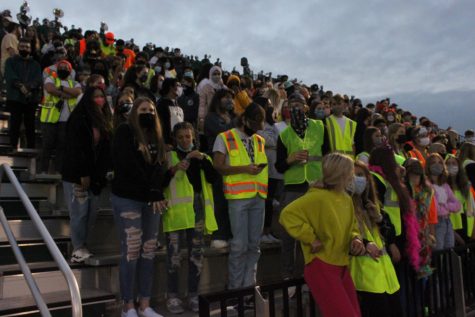 instead in neon colors-a sharp contrast to their lack of buzzing energy. 
The class of 2021 has a lot of hope that this year will eventually return to normal and their senior spirit will also make a comeback. However, as of right now, the uncertainty of the school year and looming senioritis has apathy settled in for a long year with glimmers of light at the end of the tunnel.