DWDW Day 3: Versus Assembly
On the third day of Double Wolf Dare Week (DWDW) the AM assembly was "Versus" with dares, wrestling and dancing. 
They started the assembly with a class competition. This class comp was a board game reenactment of "Hungry-Hungry-Hippo" and the seniors won with 35 balls.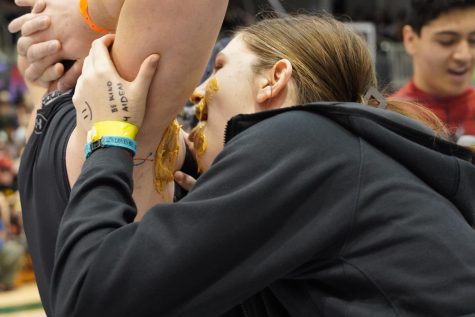 Things took a spicy turn during the next competition. In the beginning, the four chosen students had to pop a balloon being held by someone by running into it. They would then have to lick peanut butter off of two football players' armpits. To end off the competition they would have to eat extremely spicy chicken tenders and then successfully run down to the end to win the competition. The seniors would also win this competition.
"I was surprised that anyone actually signed up to do it," Audrey Hill said. 
After the class comp, there was a competition between the Special Wolves. They had to spin around three times and then throw a ball to a Student Council (STUCO) member. The STUCO member then ran with the ball and gave it to another Special Wolf who then had to run through a maze, slide under the table, and run to the end of the gym. Jordan ran to the finish line and won the race.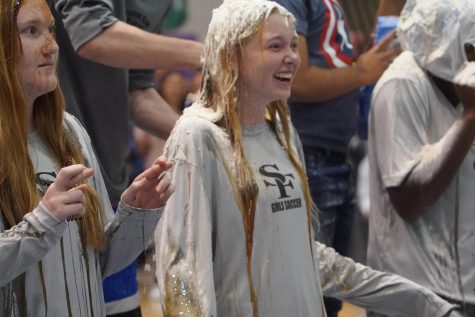 The academic team and the girls' varsity soccer team would then compete against each other in a sticky competition. Both teams had to compete in a trivia competition about DWDW. The loser would be the girls' soccer team and they would get syrup, flour, oats and feathers thrown on them.
"It made me feel smarter about DWDW logic," said Caden Gackle, Academic Team player.
Next, Preston Thorpe (Alto Sax), Amari Kinyanjui (Alto Sax), and Truman Heitz (Drums) had a music competition. It eventually became a performance from all three performers. Amari won according to the crowd because of his Careless Whisper rendition, he was even sporting sunglasses and hitting an iconic pose.
After the band performance, various teachers performed Tik Tok dances to wow the crowd.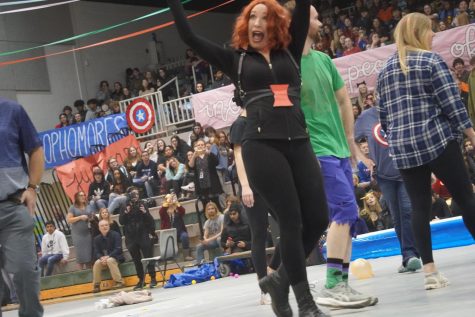 "Ms. Bray was the best dancer out there," Emily Vu said. 
The event that followed was a wrestling match between Alex Patterson and Colter Bufford in a pool of tomato juice, syrup, and milk. Alex was declared the winner 2-1 after a questionable ref call. 
DWDW continues to be a crazy and fun-filled week that keeps getting more and more daring.