"Fall" into autumn with these albums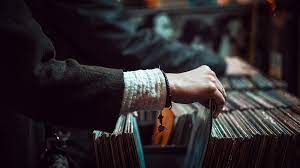 As the month shifts from August to September, you may be on the hunt for some perfect, fuzzy guitar albums and songs that will help you to welcome your smelly candles and angsty feelings as the seasons change. If so, you're in the right place. However, I'll also be listing some more lighthearted-classic fall albums that are less likely to leave you feeling like a hole was just punched through your chest.
Elliott Smith never fails to surpass music, beyond just a form of art; listening to his music is transcendent. 'Either/Or' is Smith's third studio album and was released in 1997, many of the songs from this album are his top songs. Elliott Smith has a very calming and almost whisper-like element to his songs making them incredibly unique and moving to listen to. This album is a perfect example of Indie Bedroom Pop at its finest. If you haven't listened to Elliott Smith, this is definitely a great introduction.
Key Track: Punch and Judy
Mojave 3 is a criminally underrated band. With a sound similar to Elliott Smith, it's a wonder they're as underrated as they are. 'Ask Me Tomorrow' is their debut album, and also their most successful. Mojave 3 is known for having a very peaceful and almost whimsical sound to their songs. 'Ask Me Tomorrow' is crammed full with entrancing and mesmerizing tracks that will soothe your soul. This album is fantastic and deserves to have a couple of its songs on your fall playlist this year.
Key Track: Sarah
Souvlaki is an incredible album for ushering in the changing of leaves and brisk breezes. It was released in 1994 and is the second album produced by Slowdive. To this day it remains one of the band's most influential albums. This album is the perfect album to play while you drive with the windows down, while you do your homework or even while you sleep. Slowdive has a balance of the dreary sounds of Mojave 3 and Elliott Smith, while also adding their own elements of light throughout the songs.
Key Track: Machine Gun
October Country has only released a single album since their formation in 1967. However, it remains one of the most impactful and influential autumn albums in history. It paved the way for more autumnal inspired tracks on future artists albums. This album was released in 1968 and is the quintessential fall album, if you refuse to listen to any of the other albums listen to this one. October Country emits such a concentrated fall sound and makes me want to go to a pumpkin patch and make caramel apples.
Key Track(s): October Country, End of the Line
The Mamas & The Papas will always have an autumnal sound to them that makes them memorable and stand out from the crowd. 'If You Can Believe Your Eyes & Ears' has a very nostalgic sound and you can hear it in the music. This album is The Mamas & The Papas debut album and was released in 1966. It perfectly encapsulates the classic 60s sound. This album is fantastic background music for cooking, baking and romanticizing your life as a whole. 
Key Track(s): You Baby, Go Where You Wanna Go
To me, fall is associated with a very specific brand of music that fully emulates the feeling of cold air and warm sweaters. I hope these songs help to relay that feeling to you, and allow you to fully sink into the season the best way you can.