Wolves fall short to Jenks in season opener
This past Friday, the Santa Fe Wolves took on the Jenks Trojans at home in a game that was closely contested from start to finish. The Wolves barely fell short, losing 10-13.
The Wolves were ranked seventh in the state heading into the season opener against the reigning state champions. So, the Wolves knew they would have to fight tooth and nail if they wanted to come out with the win.
"You know, to beat Jenks you've got to match their physicality and play physical football," Head Coach Kyle White said prior to the game.
And a physical game is what would proceed with defense leading the charge for both teams.
At the beginning of the first quarter, neither team could gain an inch, and no one scored for the first nine minutes. However, this changed when the Wolves' defense forced a Trojan fumble that was recovered by Alex Jones (DL#90) at the Trojans' 45-yard line. They would then immediately take advantage of this possession by advancing the ball a whole 22 yards off of a run by Demarius Robinson (RB#6) and scoring a field goal via Kale Purvis (K#94).
The Wolves ended the quarter with a 3-0 lead over the Trojans.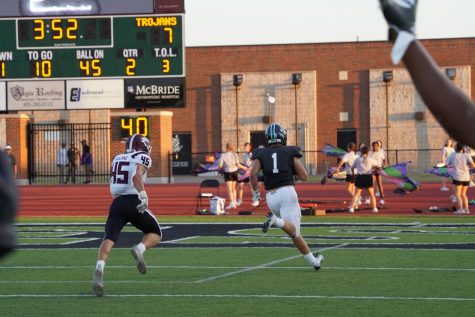 In the last three minutes of the first quarter, the Trojans used their run game to begin a drive that they would finish at the beginning of the second quarter, taking the lead 7-3. The Wolves immediately responded during their next possession with a massive 55-yard touchdown pass from Malakai Miller (QB#7) to Bergin Kysar (W#1) to take the lead back 10-7.
Neither team could mount any offense in the third quarter, but the Trojans' defense made up for their lack of offense. With 3:10 left in the third quarter, the Trojans got a sack that forced the wolves to throw on third and 15 from the Wolves' 18-yard line. The Trojans then picked off the pass and ran the ball in for a touchdown.
The Wolves then blocked the Trojans' attempt at an extra point, which kept the Wolves within a field goal of tying the game. Unfortunately, the Trojans' defense was too much in the fourth, and the Wolves were unable to mount a comeback losing by a mere three points. The final score was 10-13.
Watch the full game here.