Wolf Wars 2022
Following the first two days of school, Santa Fe football's booster club hosted Wolf Wars, an annual scrimmage between multiple teams, to help fund the Santa Fe football team. 
During the evening, the announcer came over the speakers and called a raffle ticket number, for free Santa Fe gear.
Many small businesses set up tents behind the bleachers selling everything from jewelry to wood art. Scentsy, a wax melt company, was keeping the smelly stadium smelling sweet.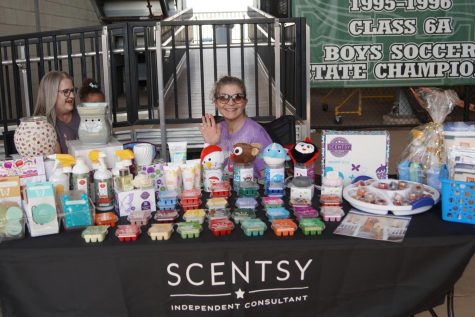 Additionally, behind the bleachers, there was a photo booth with props. Across the booth, you could meet the seniors on the Santa Fe football team. Beside the bleachers, there was a Legacy's Bank ice cream truck giving out free ice cream. 
Wolfie, the Santa Fe mascot, made rounds meeting fans young and old, and students jumped at the chance to pay $5 to pie a coach in the face. 
Middle school football teams Heartland and Summit got the opportunity to play on the Santa Fe field. The Santa Fe freshman football team scrimmaged next. Finally, Santa Fe's varsity football team ended the night with their scrimmage.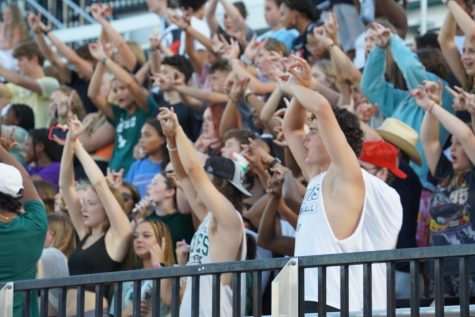 Wolf Wars is the first experience of the student section for the freshman and new students. 
"It gives them a good idea of the expectations of what they're supposed to do at a football game," Stephanie Hanson said. "A lot of our younger students and new students may not fully understand what they're supposed to fully do."