Planes, Trains and Automobiles is a must watch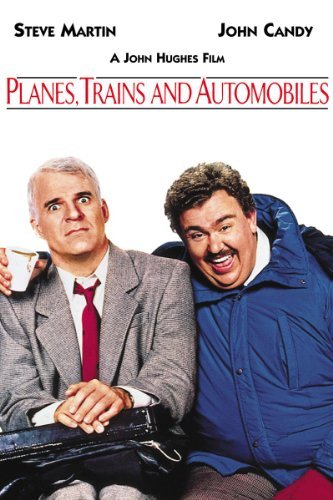 Planes, Trains and Automobiles is one of the most underrated holiday movies. From a great cast to a heartwarming story, this movie deserves more popularity. The movie takes place on Thanksgiving, so it is sadly overshadowed by great Halloween and Christmas classics. 
Thanksgiving is not a holiday known for its movies. Because of its unfortunate place in the year between Halloween and Christmas. Thanksgiving's movies are pushed aside in favor of horror flicks and Christmas classics, but I think this Thanksgiving movie has earned its place among the holiday's traditions. 
The movie has a star-studded lineup including John Candy, Steve Martin and Kevin Bacon. Steve Martin plays the lead role of Neal Page, a very punctual business man, and John Candy plays Del Griffith, a bubbly, but incredibly clumsy shower curtain ring salesman. Both actors do a great job of building up their relationship throughout the movie. 
The movie follows Neal Page and Del Griffith on their journey to get home to their homes for Thanksgiving. As the title suggests, they try multiple ways of travel on his trek. Each way of travel is used to show their relationship's growth.  
Neal and Del journey across America and don't have the best luck while doing it.  They have to share a motel bed, their flights are rerouted, their car catches fire.
The movie's true strength lies in the duality of the two main characters. Neal has a very cynical approach to life and at every turn gets sadder for himself. Del has the opposite approach and is very optimistic and bright. He sees the bright in every situation and tries to get Neal to see that way too.
Neal is a very mean person at the beginning of the movie and Del still tries to be his friend. Del, on the other hand, was nothing but nice and Neal still hated him. The contrasting viewpoints of the characters is what makes the movie so great. Neal and Del change a lot throughout the movie and Neal ends up becoming much nicer to him towards the end. 
The movie has many themes including friendship, family and general holiday goodness, but I think the most important message is to not judge other people. If Del and Neal both judged each other by how they looked, they wouldn't have become friends and shared such a meaningful experience.
This movie is a 10/10 for a holiday movie in all fields that matter. The cast is great, the themes are heartwarming and the resolution is super satisfying. Definitely a must-watch if you love good holiday movies. 
You can watch this movie on Amazon Prime, Youtube TV and Google Play.