The rumors are true: ¨Bridgerton¨ is a hit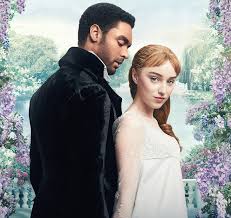 ¨Bridgerton¨ is a modern day spin on the tale told many times. It is excellently produced by the well known producer Shonda Rhimes. It is a film series that transports you directly into the story. The best way to describe the series is a mixture between ¨Gossip Girl¨ and ¨Pride and Prejudice.¨ 
 You feel the characters´ heartbreak and triumphs as if they are your own and the end keeps you wishing for more. With just eight episodes that run at about an hour each, it is certainly a ¨binge-worthy¨ show so grab some popcorn and clear your day because this is the series that keeps the viewers buzzing. 
¨Bridgerton¨ is a story between a Duke and Duchess in London and the diamond of social season. It begins with Daphne Bridgerton, played by well known actress Phoebe Dynevor, preparing for social season, to find her a suitable husband. She is the most promising candidate for the season. She then meets her soon to be husband, the Duke of Hastings, Simon Basset, played by Regè-Jean Page, who initially swore never to marry and never raise a family in hopes of ending his family name out of spite of his dreadful father. 
Amongst it all, there are also rumors stimulating from Lady Whistledown, an anonymous gossip writer that certainly stirs up some trouble for the people within ¨Bridgerton¨. Within the series, people want to figure out who she is and will go as far as they can to unmask her. The queen wants to take her platform down, especially since it is disgraceful to have women in this time period calling the shots and exposing the wrongdoings of their male ¨superiors.¨ Her identity, revealed at the end of the season, keeps viewers on their toes. There are many films and tv series that contain this same storyline yet no other portrays it quite like Rhimes. It is an enchanting experience dappled with some scandal so be warned that this show is not for the eyes of the young. With multiple sultry scenes including some nudity, be sure to be aware of who you are watching it with.
With its youthful cast and inclusivity of racial backgrounds, this 21st century spin on a 1813 tale leaves viewers not only questioning the accuracy but also applauding Rhimes for her being ever so persistent and consistent of these types of details throughout all of her work. Her emphasis on inclusivity within her casting process is extremely important to modern day media. Many people have picked up on these cues and have produced films and tv series with similar details of a cast with racial varieties that Rhimes initially paved the way for in Hollywood. She is seeing past races and looking at the bigger picture. She understands just how important representation is to see on your screen,That no matter one´s race, gender or sexuality, representation is necessary and ¨Bridgerton¨ is no exception.
Upon the show´s conclusion, viewer will be wishing that they lived in a time of castles, fancy balls and beautiful ball gowns. With similar story lines and character development but with its own unique twist, ¨Bridgerton¨ is definitely worth a watch. It is enchanting and sends a message to its viewers to live grandly and escape from reality, even if just for a few hours a day.