Elephant's Graveyard Matinee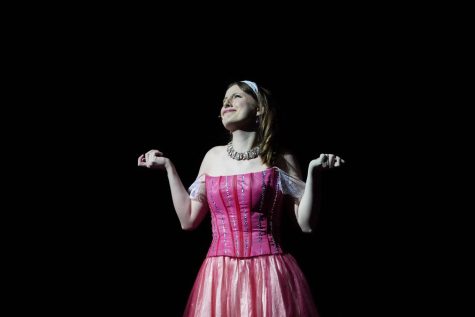 A scream echoed through the theater as the ballerina (Mary McGuire) collapsed onto the stage, and at once the crowd knew; someone had died.
Santa Fe Productions presented the matinee production of Elephant's Graveyard last Friday to Fine Arts students in the auditorium. 
Based on actual events, Elephant's Graveyard is the story of a circus elephant being hung in a small Tennessee town in 1916. The story follows the aftermath of a young elephant wrangler who tragically dies mid-circus parade; killed by the elephant. This leads to the struggle between the Townspeople and the Circus folks who work to decide whether or not the elephant should be hung. However, the play also traverses themes of justice, 'The American Dream' and even hope.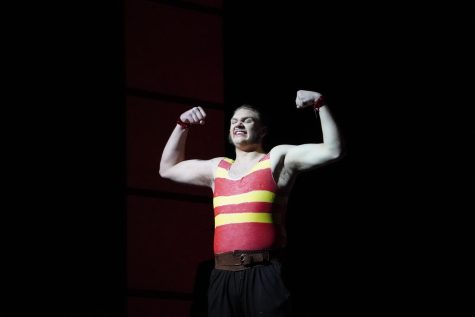 This play offered a lot of opportunities for students to explore creating dynamic characters. (Look at end of article for cast list)
"I had a lot of fun creating a character… I really wanted to add the disappointment that I was in the circus," Jackson Gragg (strongman) said.  
This play is chock full of imaginative costume designs, lively performances and gorgeous stage lighting, and overall an amazing production by Santa Fe! Drop by this week outside of school hours to see Elephant's Graveyard live and in action.
The Circus
Ringmaster – Rachel Lyon
Trainer – Lizzie Clarke
Ballet Girl – Mary McGuire
Tour Manager – Tristan Haley
StrongMan – Jackson Gragg
Clown – Brianna Lewis
Drummer – Jackson Medoff
The Town
Hungry Townsperson – Sheliaa Nkuranga
Marshall – Aydin Dale
Muddy Townsperson – Bre'Zi Thorton
Preacher – Anderson Chung
Steam Shovel Operator – Trevor Rudat
Young Townsperson – Paisley York
Guitarist – Tovan Riviera Costas
The Railroad
Engineer – Gray Visalli