Santa Fe hosts indoor assembly for the first time in two years
Olive Miller, Managing Editor, Santa Fe Staff Writer
December 17, 2021
Tuesday, Dec. 14, during advisory, Santa Fe hosted their first indoor assembly since the COVID-19 pandemic restricted school-wide indoor activities last year.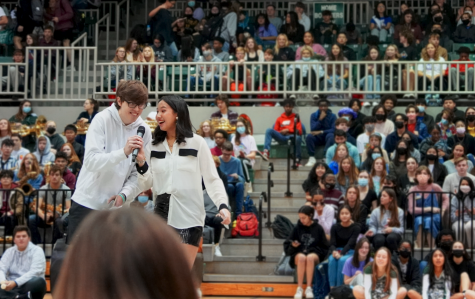 This assembly was held to announce the new theme of DWDW (Double Wolf Dare Week), and consisted of traditional Santa Fe DWDW kickoff activities. Students gathered in the bleachers and were greeted by the band. Once students were corralled into the bleachers, the recipient of DWDW was announced. Santa Fe will be donating this year's DWDW proceeds to Positive Tomorrows, which works to support disadvantaged students experiencing homelessness.
After the contender for DWDW's funds was announced, the games began. Opening with a brief arm-wrestling match between Tyson Woods and Kyron Pollard with Woods pulling the win in mere seconds. Additionally, a student from the crowd elected to wrestle against Woods and ended up winning. Finally, a special guest was announced to battle Woods in the arm wrestle, Mr. Harp. Obviously, Harp pulled the win and the crowd went wild.
Following the arm wrestle, STUCO helped to gear up the crowd by bringing out the infamous spirit stick and making rounds to the freshmen, sophomores, juniors and seniors, and chanting the Santa Fe Victory battle cry.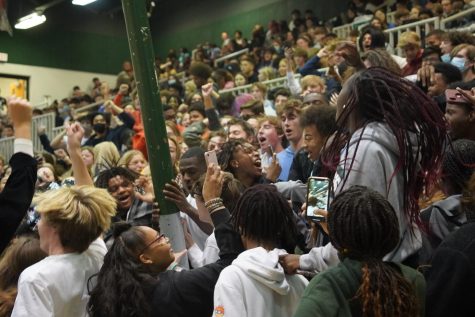 As the assembly drew to a close, the school joined together in chorus to sing the Santa Fe fight song before students headed back to class. STUCO successfully coordinated their efforts to pull this off after a long period of assembly inactivity.
"Normally every time we have an assembly, we have to contact cheer and band before we go over it with STUCO, like the timeline and what we want to do," sophomore Alayna Leck said. "So then we just assign jobs from there and hope it goes smoothly."
This collaborative effort was a great way to announce the DWDW theme for this upcoming semester: Disney.