Big win to end the regular season
In weeks seven and eight of the season, the Wolves took on Jenks and Broken Arrow. They took a loss to both of these teams losing 35-14 to Jenks and 47-42 to Broken Arrow.
In week nine, the Wolves beat the Enid Plainsmen 34-25 despite some sloppy play in the third quarter, which allowed the Plainsmen to mount a small comeback.
The Wolves would carry on this momentum when they took on the Norman Tigers in week 10.
The Wolves would put up points in a hurry early in the game against Norman. Talyn Shettron (WR#2) would receive a 50-foot pass to score the first touchdown of the game with 7:55 remaining in the first quarter. Demarius Robinson (RB#36) would then lead a drive powering through contact so Tabry Shettron (W#11) could finish off the drive with a touchdown pass up the middle.
In the second quarter, Joe Hinton (RB#41) and Demarius Robinson would share running back duties. Both players would score touchdowns in the second with Hinton driving through the middle and diving into the endzone and Robinson doing the same thing just four minutes later. In the last minute of the second quarter, the Norman Tigers would score their first and only touchdown, and the Wolves would end the quarter with a 28-6 lead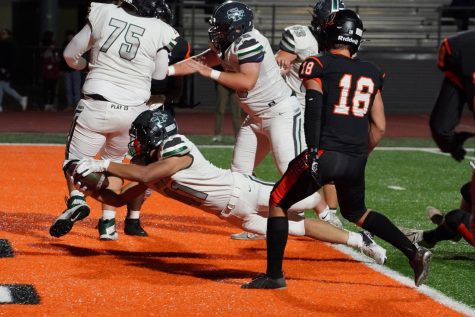 The Wolves' defense would shine bright early on in the third quarter. They got back-to-back sacks to open up the third quarter, and Cade Nelson (DB #12) would prevent a first down with a swatted pass that forced the Tigers to punt the ball. On the next Wolves' possession, Hinton would lead a drive that would end in a touchdown off of a screen pass to El Tremaine Neal (WR#5).
The second unit would come in during the fourth quarter to finish the game, Omari Bacy (RB#3) would do a lot of the heavy lifting. He would lead the drive and score the final touchdown of the game. The Wolves won 41-6.
They look forward to the playoffs this year. They will take on Mustang round one on their route to make it back to state.
"I feel great about this team and where we are headed," Head Coach Kyle White said. "We are in the playoffs, so we have a shot to repeat what we did last year and hopefully win it this time."
Update: the Wolves lost to Mustang in the first round of the playoffs on Friday, Nov. 12. The final score was 37-17.