DWDW Day 5: One last howl
To close out this year's Double Wolf Dare Week (DWDW), all students of Santa Fe gathered in the big gym for one final assembly.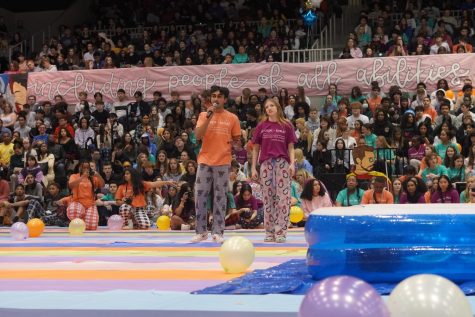 Student Council (STUCO) philanthropy chairs Aarav Jilka and Peyton Moskalski opened up the assembly by hyping up the crowd with the chant of "Save Jacob Burr," an ongoing "Ferris Buelleresque" effort created by students to deter Burr's move to Utah.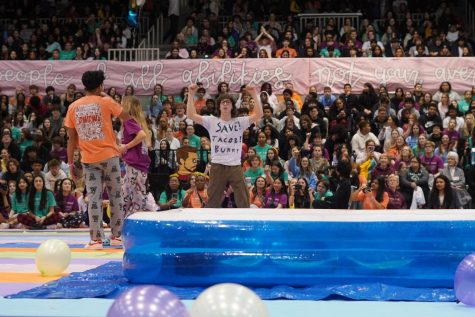 "This movement was started because my B.F.F. Jacob is moving, and I am sad,"  said Cooper Yarbrough, a best friend of Jacob Burr and freshman.
But the real story is the amazing efforts made by STUCO and Santa Fe students this week. 
Danielle Robinson, an employee of Not Your Average Joe and Santa Fe alumni, gave a heartfelt speech  before she and Carter Pfeiffer shaved the heads of STUCO member Reed Ragaini and first year teacher Janie Ramsey.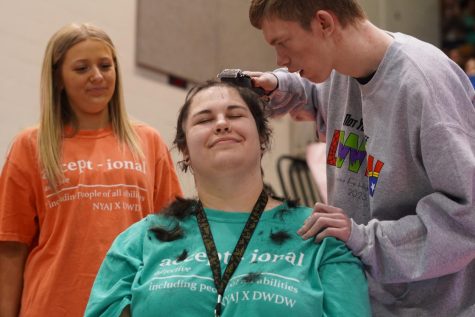 "Getting my hair shaved off was awesome," Ramsey said. "I was looking forward to it and I knew it was for a great cause. I've done it before and I would do it again."
However, Not Your Average Joe is not the only recipient of the donations of DWDW. 
Each year, the three high schools of Edmond share a "Common Thread." The charity chosen for this year's Common Thread is City Care of OKC which will receive 5% of each school charity week total toward City Care's cause. A representative from City Care spoke to students and encouraged them to get involved with the homeless population of Oklahoma. 
The assembly would not be complete without a few final dares.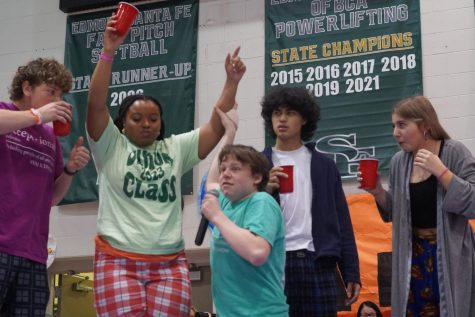 Sophomores took the win in the class competition which involved football players stepping on berries in a kiddie pool. A representative member of each class competed to chug the foot juice. 
"It was really disgusting and honestly the grossest and best thing about DWDW," freshman Caden Phillips said. 
In true DWDW fashion, STUCO and Santa Fe's Super Wolves poured slime on teachers Alexandria Jackson, Stephanie Bray and Andrew Rosko.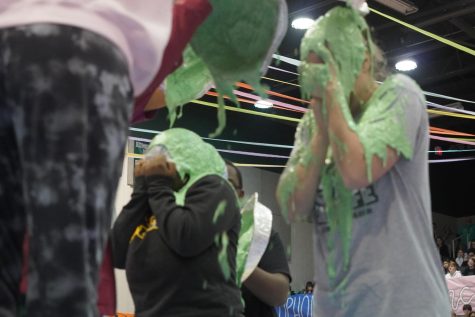 "I don't know what was in that slime, but it will be in my hair and pores for weeks," teacher Stephanie Bray said. "I'll do almost anything for the kids."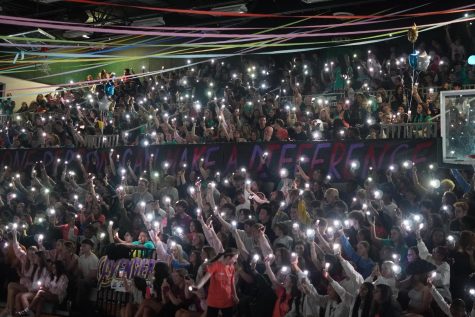 Following the sliming, the lights dimmed and the student body raised their phone flashlight in response to various prompts about their experience during DWDW.
Finally, in the tradition of a final push to raise money students whipped out their wallets for a final "miracle minute." 
In total, Santa Fe amassed a total of $202,082.52 to benefit Not Your Average Joe's new location opening soon in Edmond. 
"DWDW turned out fantastic," STUCO Member Finley Brooke said, "Every single person put in so much hard work and I love all of them."