Holiday Carnival
Santa Fe High School's student government (STUCO)  hosted a Holiday Carnival in the large gym. Upon entering the gym, carnival goers were greeted with various fun activities ranging from 3-6 dollars. All proceeds from the carnival went to Not Your Average Joe – Santa Fe's DWDW 2023 charity.
Volunteers for the carnival enjoyed setting up tables with their friends and selling homemade goods such as jewelry. With 21 tables set up around the gym, there was fun to be had all around.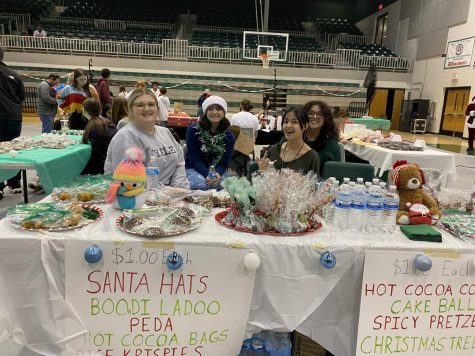 "The Holiday carnival was fun, it was such an honor to be able to raise money as a royalty member." Said volunteer and Royalty member Michelle Raley. "My favorite part was setting up. A worker from Not Your Average Joe came over to us and we got to take a picture with her, it was a day I'll never forget." 
If you want to learn more about "Not Your Average Joe" and their business, go to their website that's linked on the page, and if you want to know about more DWDW events, go to STUCO"s Instagram handle esfhs.stuco.