For the second year in a row, 'Pink Out' commenced on September 19 at the Santa Fe softball field.
The Lady Wolves faced off against the Choctaw Yellowjackets on their home turf, playing to win. Victory was important for the girls, but showing up for their coach took its place as the main priority.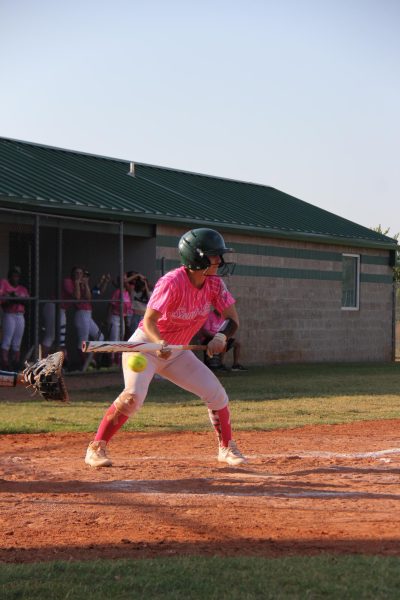 Rhonda Lawson, the head coach for Santa Fe's softball team, successfully beat breast cancer over a year ago. Her recovery was challenging, enduring bouts of radiation and two intensive surgeries to keep her healthy. Nevertheless, Lawson persevered, always staying present for the Lady Wolves and maintaining positivity throughout the tough times her disease brought her.
"It was an ordeal in itself, but I was very fortunate," Lawson said. "It takes time because your body has been through a lot, but I learned that was just a part of recovery."
While preserving her status as head coach, Coach Lawson relied on her family and Christian faith to keep her going. Lawson recognized her importance in the lives of those around her, fighting with strength to stay for them.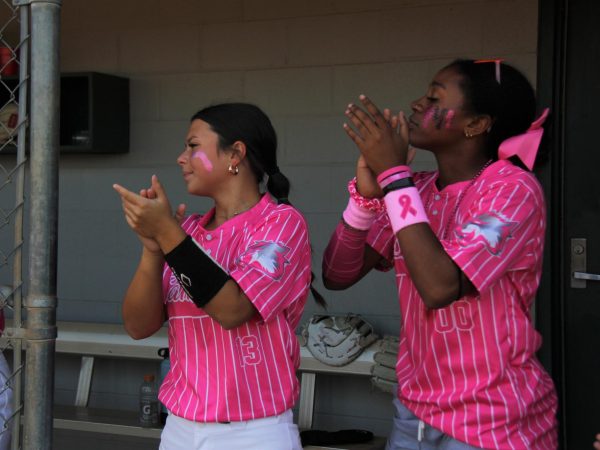 "I am a believer in Christ, and I'm not afraid to say that," Lawson said. "I put complete faith in the fact that God was going to get me through it. Family is everything, and everything is about family."
From Coach Lawson's initial diagnosis to today, the varsity softball team has commended her ability to keep going. Senior Madison Adkins, playing as a first baseman and in the outfield, has known Lawson for three consecutive years. She acknowledges Pink Out as one of the significant games of the year.
"Coach Lawson has shown incredible strength throughout her diagnosis," Adkins said. "She was always there for us, no matter what."
Lawson has been the head softball coach at Santa Fe for twenty-five years and worked for Edmond Public Schools as a PE/health teacher for thirty-four years. She was inducted into the UCO Athletics Hall of Fame in 2011 and the Oklahoma High School Fastpitch Coaches Hall of Fame in 2019. This past month, Lawson also won a brand new Chevrolet Chevy Blazer for her significant contributions to Oklahoman education.