The last flapjack
Seven years and thousands of pancakes later, Randy Blackwood, Santa Fe's beloved math teacher,
has sold a record-breaking number of 8,200 pancakes in his last year teaching.
Blackwood has been making pancakes since 2016 for Double Wolf Dare Week (DWDW). It originally started out as a class-based fundraiser to help support DWDW but eventually Blackwood had kids coming up to his door asking about pancakes.
"Yeah, kids just started lining up at my door," Blackwood said.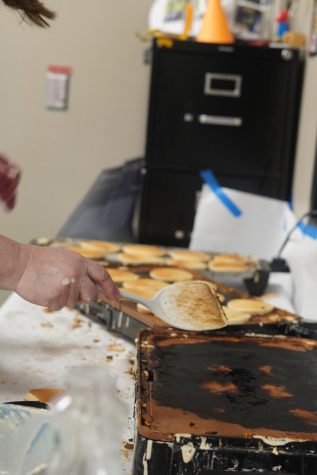 Blackwood continued on the pancake tradition and in the DWDW year 2020 he would hit what was his then record of 340 pounds of pancake mix. 
In 2021, his pancake tradition would come to a halt and the FCCLA kids would take it over for COVID-19 safety reasons.
"I didn't feel comfortable making the pancakes like I normally did, so I just handed it over to them for the year," Blackwood said.
Last year, 2022, the pancakes made a comeback but since COVID they were not as popular so Blackwood remembers not seeing much of a crowd as usual.  
Due to Mr. and Mrs. Blackwood's retirement, this is his last year in the pancake business. With the beloved pancakes and homemade syrup leaving Santa Fe, there was constantly a line at his door. 
With lines wrapping into other hallways, students had no concern for missing the majority of class for the famous pancakes.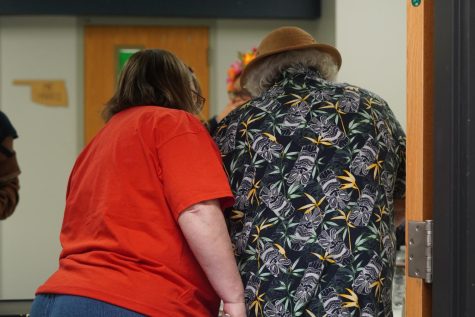 Because of the constant crowd, Blackwood beat his 2020 record of pancakes and sold an incredible 8,200 pancakes. He also used 140 pounds of sugar for the syrup. He ran out of pancake mix during the third hour on the last day of DWDW.
Next year's DWDW will be a lot different without the BlackWoods. We don't know who will take the pancake making task, but we do know it will be a big skillet to fill.
"The Blackwoods are a gift to this school," senior Leilani Beltran-Hodge said.