Super Wolves class of 2022
After four long years of high school, 13 seniors in the Super Wolves program received their high school diploma at a graduation ceremony held in the freshman cafeteria on Friday, May 6.
Super Wolves represents the Santa Fe High School special education program.
The members of this year's graduating class are Larissa Branscum, Spencer Frost, Kamden Greenhaw, Rey Tabe, Miyah Crawford, Andrew Fetterhoff, Damon Harris, Markus Lanier, Kai Callendar, Brian Nkuranga, Logan Strohl, Andrew Woods and Titus Bass.
These students faced much adversity during their time as scholars, but their hard work has paid off. During the ceremony, senior Rey Tabe delivered a speech reminiscing on his time as a wolf.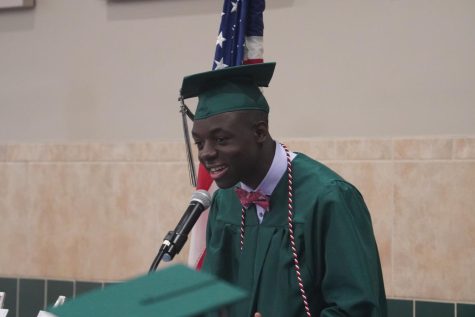 "We have looked adversity in the face and grown stronger from it," Tabe said. "We have made some unforgettable memories, but no matter where we go, we will never forget we are wolves."
Both principal Jayson Hayes and Vice-Principal Dave Gibson gave speeches congratulating the class of 2022 and commemorating them for their journey.
"You guys have grown in your knowledge and understanding, you've grown in your skill development, you've grown as a family and we are so so proud of you," Hayes said.
Following the ceremony, the graduates joined their families in a celebratory breakfast.