Wolves place fourth at swim meet
The evening of November 16, Santa Fe Swim Team traveled to the Mitch Pool for their second meet of the season. 
They started the meet with the girls Medley Relays. Around ten minutes later, the boys started.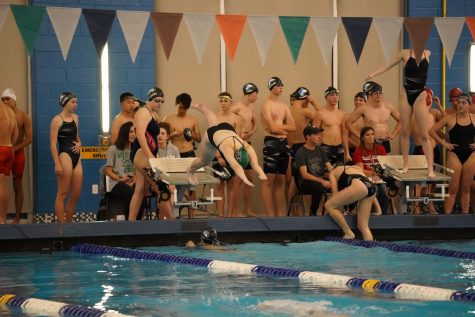 In the 200 yard girls Medley Relay,  junior Kamryn Shaffer swam 00:32.57 in the backstroke portion of the race, Rachel Ly Junior swam a 00:37.61 using breaststroke, junior Isabel Long swam a 00:31.56 using the butterfly stroke and freshman Sophia Starkey swam a 00:30.94 using freestyle stroke in the final leg of the race. Overall, the time for the Lady Wolves was 2:12:68. 
In the 200 yard boys Medley Relay, freshman Kevin Su swam a 00:34.85 using in the backstroke portion of the race, freshman Joseph Shaffer swam a 00:29.83 using breaststroke in the race, junior Ethan Hollingsworth swam a 00:26.67 using butterfly stroke and junior Nathan Duong swam a 00:25.33 using freestyle finishing off the relay. Overall, the time for the Wolves was 1:56.68. 
Both the Lady Wolves and Wolves placed fourth in this event. 
Kamryn and Joseph both placed first in their event. Kamryn swam a 02:28.74 in the 200 yard IM. Joseph swam a 01:05.75 in the 100-yard breaststroke.
Kamryn also swam in the 100 Yard Butterfly placing fourth and 200 Yard Freestyle Relay with senior Lauren Gabbard, Isabel Long and Rachel Ly placing third. 
Joseph swam in the 200 Yard IM placing second. He also swam in the 400 Yard Freestyle Relay with Nathan Duong, sophomore Zandor Hanson and Ethan Hollingsworth. 
The Wolves return to the pool on January 6, 2022.