Mitch Park-YMCA lights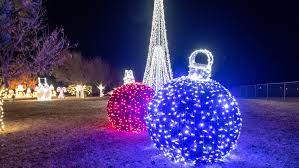 The Mitch Park-YMCA is producing Luminance: a Christmas light walkthrough. This public event will get you in the holiday spirit.
The light show takes place from Nov. 20 to Jan. 2, the lights run from 5 p.m. till 10 p.m. This free community show all began in 2018 when Mitch Park had their first grand opening and continues to go on every year.
¨We wanted to provide a free community event that our residents and residents from other communities can come and enjoy during the holidays to get them into the holiday spirit, we saw other cities and communities have done these Christmas light displays so decided to kind of create one in our own backyard more or less so our residents could enjoy something in their community,¨ Jessica Lyle (Edmond Electric Community Program Manager) said.
Jessica created and started the light show because she wanted to do something different and give people a new experience. 
¨I love Christmas. I want this to be something that can be family traditions,¨ Lyle said.
They start planning the setup in January and add something new and different each year to illuminate the show so the people have something new to look forward to. They start setting up about mid-October. It takes a couple of weeks to get everything set up and in place, then a couple more weeks to get everything fine-tuned and tested. Overall, the process takes about a month.
When it's set up and the lights are on it really feels like Christmas.
¨We hope that people get to see something they have never seen before, other communities do similar Christmas in the park displays and illuminance is something no one else has currently in the state, hoping people get a different perspective on what Christmas displays could look like and the fact that we are 100% walkthrough event and that there is no driving allowed, it gives the chance for people to get outside and be with their family and be more intimate without display,¨ Jessica Lyle said.