Top 3 Coachella line-ups
With Coachella, one of the most popular music festivals, approaching on Apr. 14, we take a look back at past musicians, performances, and iconic Coachella lineups.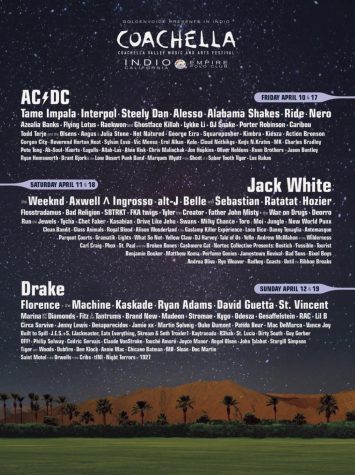 3. Coachella 2015
Drake and a band for the ages, ACDC, were featured in the lineup along with Jack White. The three musicians/band are an odd combination, but I think that's what makes it so unique and good.  Variety is essential in the world of music, and although I had no clue who Jack White was until I looked him up, I bet other people love him and got to experience listening to him in person as well as things they've never heard of. 
 Other notable performances people experienced came from musicians like Tame Impala and The Weeknd.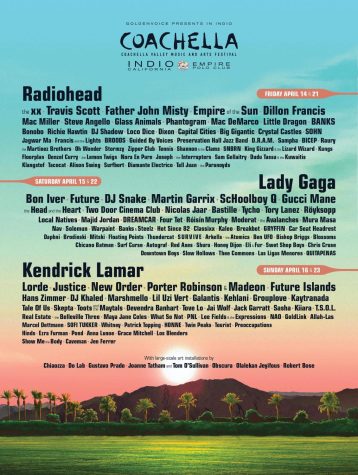 2. Coachella 2017
With headliners Radiohead, Beyonce and Kendrick Lamar it makes sense as to why the festival grossed $114.6 million that year. Radiohead's unique sound paired with their stimulating lyrics was sure to be a crowd-pleaser, and Beyoncé's consistently uplifting music brings joy and courage to the mainly black community; who doesn't love the Queen Bee? Kendrick Lamar, easily one of the most gifted lyricists in the game, performed songs centered around his newest at the time album DAMN. Travis Scott, Mac Demarco, and Lil Uzi Vert were also in attendance, meaning there was honestly something for everyone.
1. Coachella 2022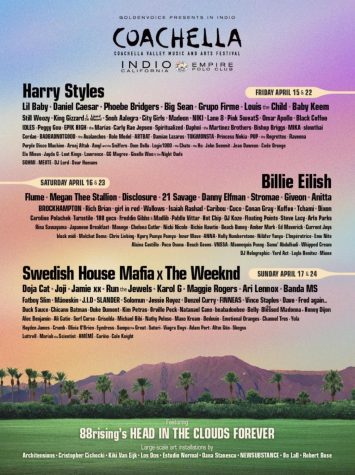 The best Coachella lineup of all time has to be that of Harry Styles, Billie Eilish, and The Weekend featuring Swedish House Mafia as headliners. As a teenage girl growing up in this generation, having a very strong love for Harry Styles is the only right thing to do. Billie Eilish blew up in 2018 and was able to relate to the teenage population instantly making her a hit. The Weeknd has an earth-shattering voice, but pair that with Swedish House Mafia's acoustics and instrumentals you've got even more incredible music. Daniel Caesar, Phoebe Bridgers and Omar Apollo make me want to cry and Doja Cat, City girls and Megan the Stallion make me want to get up and dance. The perfect combination.