2022 Oklahoma State Fair is back
The Oklahoma state fair has come back with new things to expect. 
Admission Prices
The Oklahoma State Fair  will take place from Thursday, Sept 15 to Sunday, Sept 25. The fair has admission prices for adults (12 years old and up) at $15, children (6 years old to 11 years old ) at $8 and season passes at $40. Admission price for the fair, daily admission prices for adults are $15, children are $8 and season passes are $40. Tickets can be purchased at the fairgrounds box office, online or by calling (405) 948-6800. 
Discounts
Discount days this year include Thrifty Thursdays on the 15 and 22 of Sept. For those days, admission prices will only be $5 for all ages (ages five and under are free), and ride all day armbands will be sold on Thrifty Thursdays for only $25. On Monday Sept. 19, bring your military I.D. and get in free. It will be $4 for Sky Eye wheel ride tickets. On Tuesday Sept. 20, gate admission is $2 and each carnival ride will be $2, there's a little book of big deals that will be sold for $2 and sky eye wheel rides will be $2. On Wednesday Sept. 21 tickets are free for senior citizens (ages 55 and up) and the sky eye wheel rides are $4.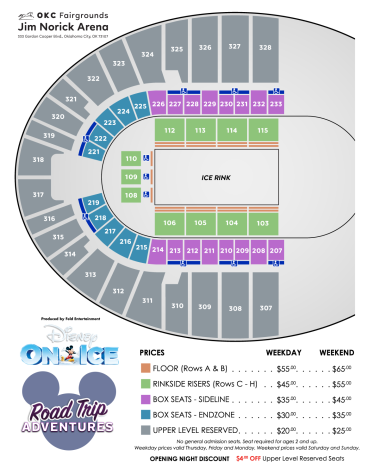 What to expect?
There will be a Disney on Ice performance from Sept. 15-19 at the Jim Norick Arena. The show times are Thursday Sept. 15 and Friday Sept. 16 at 7:30 pm, Saturday Sept. 17 at 11:30 am, 3:30 pm, and 7:30 pm, Sunday Sept. 18 at 2:30 pm and 6:30 pm and Monday Sept 19 at 11:30 am and 7:30 pm. There are special events such as Miss Oklahoma State Fair pageant, Great taste of a fair, an Opening ceremony, Board game bonanza, Band day parade competition, State fair academy, Equine empowerment Horse show, Deaf awareness day, Oklahoma state fair putters cup, Oklahoma state fair corn hole classic and a Closing ceremony. 
What's New?
In 2022 the Oklahoma state fair has gotten some new fun attractions. There is now a Ninja nation, a Pirate game show, and a Pirate foam zone. 
The Oklahoma State Fair opens at 10 am daily.