Rookie of the year
On Nov. 29, the Central Oklahoma Athletic Conference (COAC) announced its 2021 football season awards. Edmond Santa Fe's Demarius Robinson was named All-Conference Newcomer of The Year following a stellar freshman season. 
Demarius is a freshman running back for Santa Fe. He finished the season with 17 touchdowns and over 1600 rushing yards in just nine games played. He hopes to keep up this high level of production in years to come.
"I got rookie of the year; it's like an MVP trophy to me," Robinson said. "I still got more to come though."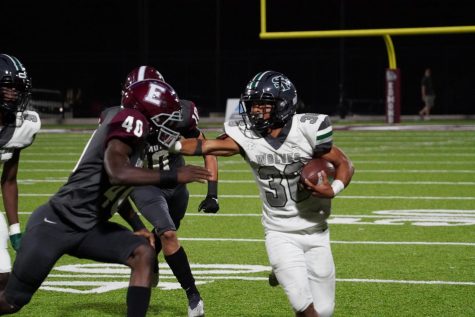 Demarius started playing football when he was just six years old, and he played up with the older kids. He looked up to people like Barry Sanders and Odell Beckham Jr. and would watch highlight tapes of them on Youtube. He is 14 years old now and is still overachieving for his age.
Demarius has big aspirations for both himself and for Santa Fe's football program over the next few years. He wants to go to college and eventually go to the National Football League (NFL). He would also like to bring a state championship to Santa Fe before he hangs up the green and gray.
He is a hard worker who wants to see him and his teammates succeed.
"I encourage my teammates to be better every day," Robinson said. "You know, make sure they're on the same page I am. Make sure they want to go undefeated just like me, how I want to."
He has had a big impact on the team so far and has no interest in stopping here. He wants to leave a legacy in Santa Fe that will be remembered.
"I think the sky is the limit for him," said head football coach Kyle White. "He is capable of anything he sets his mind to."