Santa Fe rallies to protest Julius Jones execution
Olive Miller, Managing Editor, Santa Fe Staff Writer
November 19, 2021
Yesterday, at 11:05AM, students marched out of their third-hour classes and onto the football field to protest the execution of Julius Jones.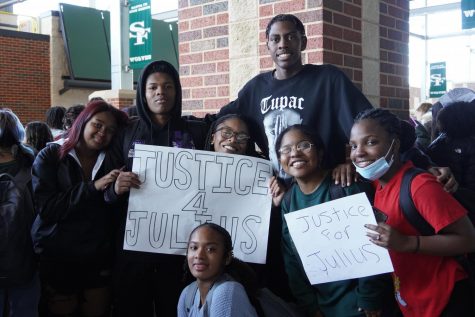 Julius Jones is accused of carjacking and the first-degree murder of 45-year old Paul Howell. However, Jones did not fit the description of the killer, his co-defendant, Christopher Jordan, did. While DNA tests have been done, many have turned out to be inconclusive or resulted in retests. The Julius Jones case was also riddled with remnants of systematic racism and prejudice. More details about the Julius Jones case can be found on the Official Julius Jones website.
Many students and teachers believe that Jones is being wrongly convicted and incorrectly penalized. This led to a walk-out being organized and planned by the student body. Many students were seen reposting #FreeJulius Jones on Snapchat and Twitter, with information in regards to the walk-out.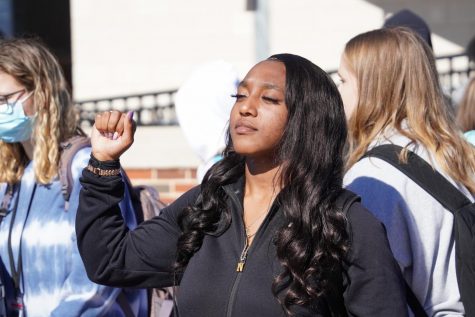 Principal Hayes chose to collaborate with students to allow students to protest safely and ensure that students had the opportunity to be heard.
"I think that our students have every right to make their voices heard in a peaceful way. We have some amazing students with really big hearts, and they want to make their voices heard, and they're choosing to go about it in the right way," Hayes said. 
Many students felt that his story was something that needed to be heard by everyone, and that protesting could have an impact on Governor Stitt's decision.
"I love it, I feel like it will maybe, actually, do something," sophomore Andrea Shah said.
Many students also spoke on the fact that Jones's case was biased and he was falsely convicted. 
"It's unfair, and it's biased. There's so much evidence that he didn't do it,"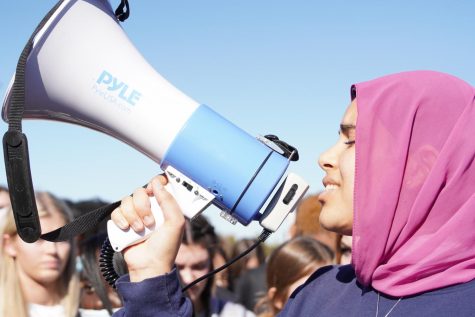 junior Shay Michelle, said.
Other students spoke on the fact that this isn't the first time that black people have experienced oppression and fear. It's a daily struggle.
"Black people are getting shot almost every day for doing nothing, like getting shot for having their hands in their pockets or having a hairbrush," junior Mary Wilkinson, said.
Students rallied together and marched around the track before meeting in the center of the football field where many individuals shared stories of racism in their day-to-day lives. 
Around 12, it was announced that Julius Jones's death sentence would be commuted to life in prison without the possibility of parole.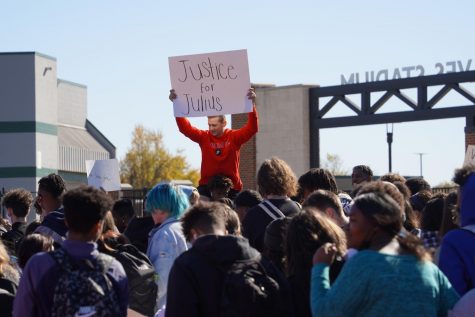 Students cheered, clapped and hugged one another; a collective sigh of relief was felt throughout the school and state. The rally, however, didn't end there. It continued as students shared stories of racism and oppression before returning to class at 12:45PM.
Yesterday is a day that will go down in history. Kelli Masters, an advocate for Julius Jones's legal team, commented that Jones had noticed students had chosen to speak up about the case and was moved.

"[He] was, look at all those kids we can inspire to have better lives, how can we help them, can we help them make good choices and have better lives? 'How am I going to continue the work that's in my heart?'" Masters said.
It was a display of resilience and passion by Oklahoma, and Santa Fe should be proud and honored to have been able to play a role in it. While Jones was lucky enough to surpass execution, the protests should not end here, there is still more to be done to ensure and reinforce equality within the justice system.
Black Lives Matter today, tomorrow and every day after that.