Homecoming Dance: who wore what?
Olive Miller, Managing Editor, Howler Staff Writer
October 27, 2021
On Saturday evening, many were fortunate enough to attend the  homecoming dance, hosted by Santa Fe's very own Student Council (STUCO). Students arrived decked out in their sharpest attire to enjoy a night of fun, dancing and even a decorative photo op. 
This year's fashion choices varied in style, many showed up in similar fashion but with their own unique characteristics. This year, "Lucy in the Sky", an online store, dominated the charts for where most girls decided to purchase their dresses. Close seconds to this were Dillards and Windsor. Most men chose to purchase suits from either Men's Warehouse or The Wardrobe.
There were, however, mixed reviews on the overall presentation of the outfits; Laura Pollack, a sophomore, believes that there wasn't nearly as much individuality as she expected.
"The outfits were generic, the same things in different colors," Pollack said.
On the other hand, Monica Zamora, a sophomore, believes that students were able to show variance and express their own style with added flair.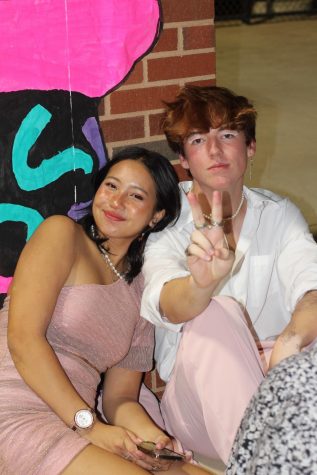 "I think all the outfits were really nice and everyone cleaned up so good," Zamora said.
This year, many girls chose to wear bodycon dresses, but with their own personal twists. A bodycon dress refers to skin tight mini-dresses, whether that be sequins, floral patterns or off the shoulder. This season everyone was able to express themselves and their style through their homecoming ensembles, and Avary Lewis, sophomore, thinks it was a great opportunity for students to have more freedom without restrictions of the dress code.
"I feel like it was really cool to see people, like who they really were through their style," Lewis said.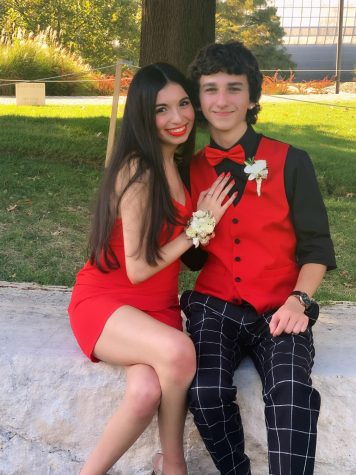 Many were fortunate enough to express themselves to the extent that they were unable to in the classroom. Many couples wore outfits that corresponded to their significant other's. Whether that be a classic black and white suit and a bodycon dress, or a red and black suit with bowtie and a short red dress as displayed by sophomores Celeste Martinez and Reed Ragaini. (Pictured left). 
This year's homecoming dress season was seen by some as a success, and others as a jumping point for further creativity, but as a whole this event was planned well by STUCO. The atmosphere was one to remember with the electric roar of the crowd when a popular song came on, and when individual groups erupted with laughter. This event was a good example of an incredible collaboration, what could other events look like later on this year?