DWDW Hall of Fame/Royalty Assembly
Students from different grades competed in multiple events during Tuesday's assembly for a chance to have their name cemented in the Double Wolf Dare Week (DWDW) Hall of Fame. Also during this assembly, DWDW royalty members were recognized for their philanthropic contributions.
The Hall of Fame competition included several events such as a pick-up-line battle, a swimsuit competition, a runway where students show off their style by wearing fabulous dresses, a lip sync battle and a final talent show.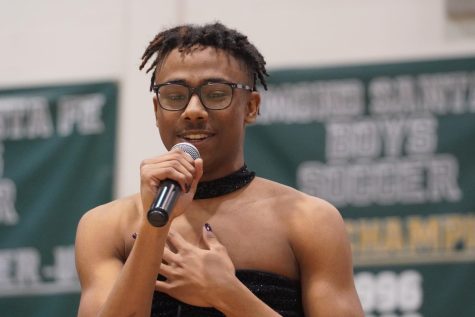 "My favorite round was the dress round," senior Trey Grayson said. "I really liked the way the dress fit, and I liked all the compliments I got."
After each event in the competition, the judges, Ms. Frazier, Ms. Manseu and Tim Herbel, the founder of Not Your Average Joe, eliminated several students from the competition until there were only three remaining. The three remaining competitors, Ian Jenkins, Alex Patterson and Trey Grayson, duked it out in a talent show competition to see who would be added to the DWDW Hall of Fame. Although Jenkins' performance of "When I Was Your Man" moved the crowd, Trey Grayson ultimately won the competition with his electric performance of Kendrick Lamar's "Alright."
"When I was performing, I kinda blacked out," Grayson said. "It was totally an out of body experience."
Along with the Hall of Fame competition, DWDW royalty members were also recognized during the assembly. DWDW royalty members are some of the biggest contributors to DWDW as they fundraise for the DWDW recipient year round.
"Royalty is super important because it helps students come together and raise money for non-profit foundations in need of our school's help," senior Khloe Pierce said.