Raven Owens: An inspiring member of the future generation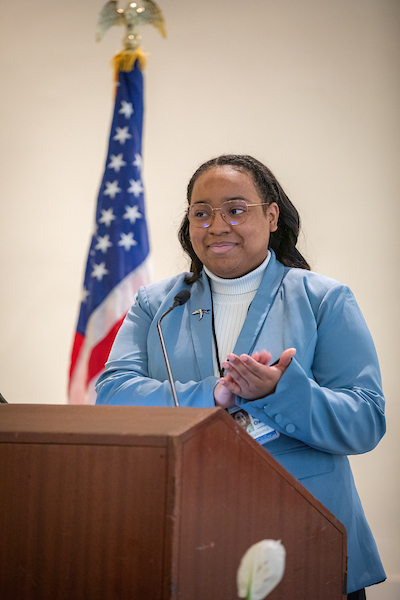 A senior at Edmond Santa Fe represented Oklahoma at the United States Youth Program (USSYP) earlier this month in Washington, D.C., but her real impact can be felt right here in the Edmond-Oklahoma City area.
Raven Owens, an 18-year-old senior at Edmond Santa Fe, is a member of Santa Fe's Student Council (STUCO), Mayor David Holt's Youth Council of Oklahoma City and she is the Oklahoma State DECA Vice President of Leadership. Aside from her many extracurriculars, Owens likes spending time with friends, listening to music and she really enjoys a good book, reading anything from political commentary to romance. She is a passionate person who leads with kindness and determination in both her school and her community.
As a part of Mayor Holt's Youth Council, she worked to help pass legislation that will help build youth centers and provide educational resources. The work that she has done with STUCO has also helped people with housing insecurity gain quality education through the 2022 Double Wolf Dare Week recipient Positive Tomorrows.
"Positive tomorrows has held such a special place in my heart because I understand how just how hard it is to receive a quality education when you're dealing with housing insecurity or domestic violence issues," Owens said. "The fact that we were able to raise $213,000…is just so touching to me."
More recently, she became a delegate in the United States Senate Youth Program (USSYP). The USSYP selection process is extremely competitive, and there are only 104 total selected delegates every year. When Owens applied last year, she was only selected as an alternate because she was woefully unprepared for her interview. So this time around, Owens prepped quite extensively after school with AP Government teacher Torie York to ensure she was fully prepared.
"We both would meet after school and discuss possible topics of questions the interview panel could ask," York said. "Ultimately Raven did all the hard work herself and was the reason why her interview was so successful. I'm so very proud of her."
In early March, Owens represented Oklahoma during the 61st annual USSYP Washington Week In Washington D.C, Owens visited and toured various government buildings and historical landmarks such as the Pentagon, the White House and the Martin Luther King Memorial. They also got to hear from many speakers such as Secretary of Education Miguel Cardona, US Surgeon General Vivek Murthy and  Soledad O'Brien, a journalist, and producer of the show, Matter Of Fact, which aired a segment about the USSYP on March 11.
"I don't even think there are enough words to describe how transformative the entire experience was," Owens said.
Owens' favorite part of the experience was meeting Assistant Attorney General for Civil Rights Kristen Clarke. Clarke is one of Owens' biggest inspirations because, like Clarke, Owens is incredibly passionate about civil rights issues.
"Getting to hear from a person who has experienced similar things to me and just to see what she has accomplished and how hard she's working to protect the lives of others really inspired me," Owens said.
Owens hopes one day to become a civil rights lawyer. She is motivated to pursue this career path as a result of watching African Americans die from police brutality, women suffering from gender-based violence and people not being able to vote as a result of discriminatory policies.
"Growing up and seeing that, not only in America but especially here in Oklahoma, I really want to be able to represent the people who don't often have their voices heard because they are so often looked over," Owens said.