SF Varsity Volleyball attacks the court
Santa Fe Varsity Volleyball serves North a loss after four sets on Tuesday night. Santa Fe fought head to head with North, winning by a mere two points.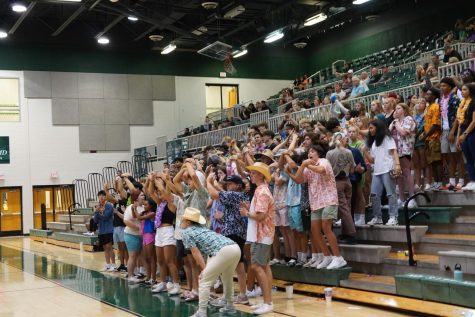 This game created an intense buzz in the student section. Audrey Bird (#28), a senior middle hitter and blocker is definitely someone to look out for. She was one of the main reasons the student section was as involved and hand motioning a bird every time she served the ball.
Other players to look out for this season are Addy Banes (#1), a senior and phenomenal libero. As well as Anna Rice (#30), a Sophomore and big right-side attacker.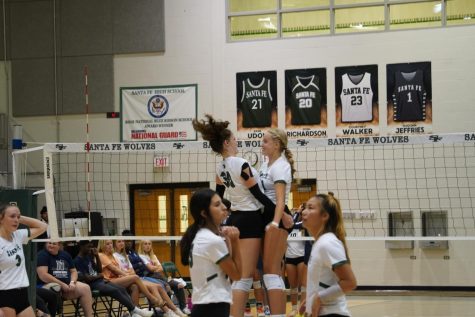 The Lady wolves played in this tournament a week ago.
 "Tough tournament, we ended up two and three," said Coach Ethridge and Assistant Coach Drew McCarty. "We expect lots of hard work, effort, and lots of energy this season, and want everyone to keep getting better." 
Some goals our libero, Addy Banes, wants to accomplish this season are to be a better leader on the court and more supportive.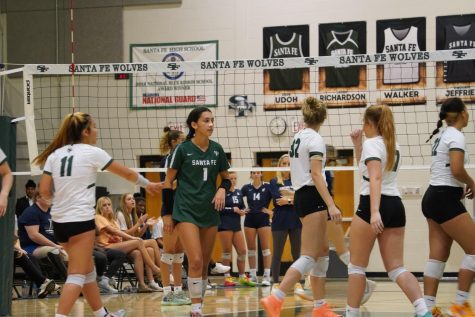 "I'm so excited for the season and really want to make it to state this year and help improve everyone on the team and myself," Addy Banes said.
The Santa Fe Volleyball team wants to keep improving through the season and hopes to take home the trophy and add a new banner for their win.
" We have a lot of talent this year so we can keep getting better and better and make that run for state." said Coach Ethridge.