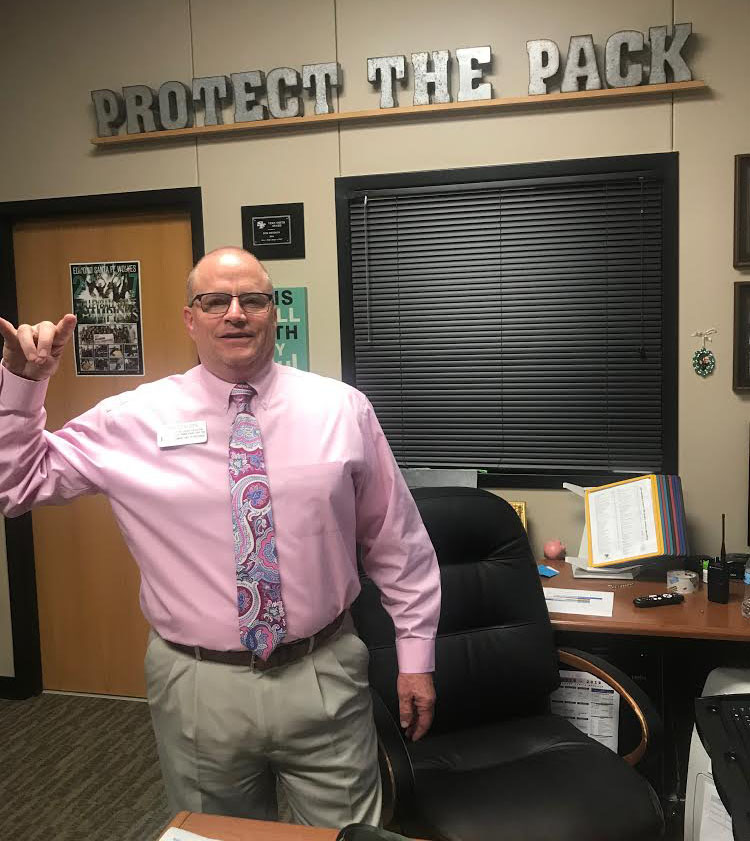 Provided By
"Protect The Pack" is the slogan of Santa Fe that became famous because of Bob Denison. Denison is best known for his fire shoe game and always ending his announcements with the famous slogan. He has held the position of freshman principal for seven years and will be retiring at the end of the 2020-2021 school year. 
The past four years Denison has upgraded from dress shoes to Jordans. The gag sprouted from 2017-2018's Double Wolf Dare Week with "Teacher Mean Tweets" where Denison was criticized for wearing shoes for "young people." He then proceeded to show off his fire shoe game and has been a shoe icon at Santa Fe since. 
Stephanie Hanson, who is currently the freshman counselor, will be taking over the position after Denison's retirement. 
"Bob Denison is not just a principal, he is like the father of the freshman academy…the Godfather," said Stephanie Hanson. 
Denison made the decision to move to the Freshman Academy after being the sophomore principal because he wanted to show how important the Academy is to him and to the people who came before him. 
In true Denison fashion, his actions speak louder than words. For example, he planted seeds in the courtyard from the Survivor Tree to honor the loss of his father-in-law in the OKC bombing. He takes time out of his day to weed and trim the trees. 
No one can replace Mr. Denison and no one can have as fire shoe game as him either. We wish you the best Mr. Denison! 
"You can't protect the pack and ever forget what Bob Denison meant to this community." said Hanson.